Back to the office after a summer of smelling the roses and sipping on ice-cold rosé? We can help ease your work style dilemma. Put first-day jitters firmly to rest with four polished styles to pick from.
1.
SOMETHING TAILORED
Stand out in a sea of black and beige with a pastel trouser suit. Not just reserved for Fashion Week frequenters, the new style of suiting is a little more playful – yes, you can pair different shades and fabrics (think cotton and satin together) – but still polished. The secret to long-lasting wear is all in the way you style it.
Style it with: A printed T-shirt peeking through – it's best to leave the jacket unbuttoned – and box-fresh trainers.
RRP €420
Village Price €120
Laverne Shrunken Cotton Jacket
RRP €210
Village Price €105
Simmons Cigarette Trousers
RRP €39.90
Village price €25
Pink Originals T-shirt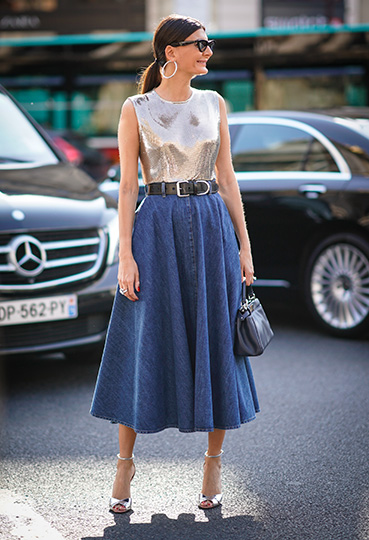 2.
SOMETHING THAT SHIMMERS
Say it with sparkles, sequins or beads. An embellished top should be part of your working week repertoire. Why? Because you need a dopamine boost that doesn't involve caffeine or chocolate, or pretzel sticks dipped in peanut butter, that's why. Fear not: daytime embellishment can be done with finesse. Go for a cashmere sweater saturated with beads or tailored shorts accented with sparkling sequins.
Style it with: Your cashmere sweater is best tucked into a ribbed second-skin skirt and teamed with flatforms for chic workwear appeal, while the shorts should be paired with a fitted camisole top and a loose-fit blazer.
RRP €895
Village Price €495
Now €295
Adrianna Jacket Pink and Blue
Chelsea Print Bomber Jacket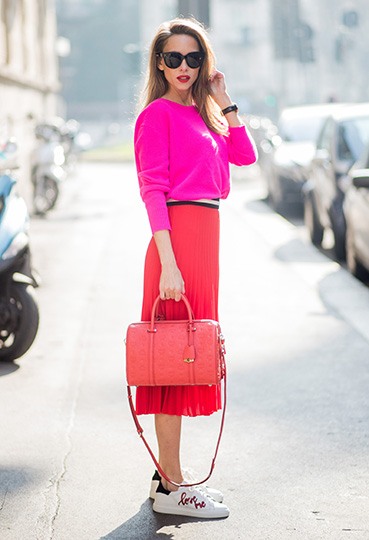 3.
SOMETHING GAME-CHANGING
If you want to turn heads on day one then colour blocking is the name of the game. But remember this is the advanced painting-with-colour class. Instead of reaching for every shade of the rainbow, stick to two-tone pieces or balancing a cool shade, such as grey, with a warm tone (orange or mustard) – both have more grown-up appeal. Try a chiffon maxi dress in different shades of yellow with a split hem – imagine the swoosh appeal – as the perfect antidote to grey days spent collating spreadsheets.
Style it with: A navy blazer and cut-out leather calf-length boots with a chunky heel – from the likes of Chloé – or a Western-inspired lace-up pair to balance it perfectly.
RRP €228
Village Price €150
Now €105
Blue Printed Chiffon Dress
RRP €895
Village Price €495
Now €295
Adrianna Jacket Pink and Blue
RRP €80
Village Price €55
Loyal Black Heels
RRP €90
Village Price €60
Jagged Beige Comb Trainers
Tags: Workwear Work wardrobe Style Fashion Outfit inspiration Style inspiration